Apprenticeship Info
Georgia Sheet Metal Training Center
TOGETHER WE DO IT BETTER
If you are looking for a career and not just a job, then you have come to the right place!
​Georgia Sheet Metal JATC offers an exclusive training opportunity with a mixture of classroom and on the job training. We offer excellent pay and benefits for your whole family.
Earn while you learn!
1st year $ 17.34
2nd year $ 20.81
3rd year $ 24.28
4th year $ 27.74
Journeyperson $ 34.68
Apprentice wage changes on JULY 1st
WHO WE ARE?
​Georgia Sheet Metal Joint Apprenticeship and Training Committee has been training apprentices for the Sheet Metal Industry since the 1940's.
The program is jointly administered by the Sheet Metal Workers Local Union 85 and the Sheet Metal and Air Conditioning Contractors' National Association.
Students in the Sheet Metal Apprenticeship program have the opportunity to be involved in the construction of some of the finest projects in Georgia such as The Georgia Aquarium, Phillips Arena, Falcons Stadium and Braves Stadium.
The Union Sheet Metal Industry offers more than a job. It offers a career. Many graduates go on to become foremen, supervisors, managers and contractors. Some have even gone on to become full time officers in the local union.
Georgia Sheet Metal JATC is committed to training qualified Sheet Metal Workers to meet the ever growing demands for skilled labor. The training center utilizes state of the art equipment and techniques to meet the changes of the Sheet Metal Industry.


WHAT IS AN APPRENTICESHIP?
​Apprenticeship is...
A structural system of training to prepare individuals for occupations in skilled trades and crafts. It combines classroom instruction and on-the-job training under the supervision of experienced journeyman workers. Apprentices who successfully complete the program are rewarded certificates of completion from the United States Department of Labor and The International Training Institute.
It offers...
Good jobs at good pay
Skills you can be proud of
Job security
Statistics show that graduates earn higher wages, have more stable work hours, and are promoted sooner and more often than workers who have not been trained through apprenticeship programs.

Best reasons to become an apprentice:
It is the best way to learn a trade or craft
You earn while you learn
You are supervised on the job by journeymen
Classroom instructors are all experts in their related trade
Tuition free training
AVAILABLE PROGRAMS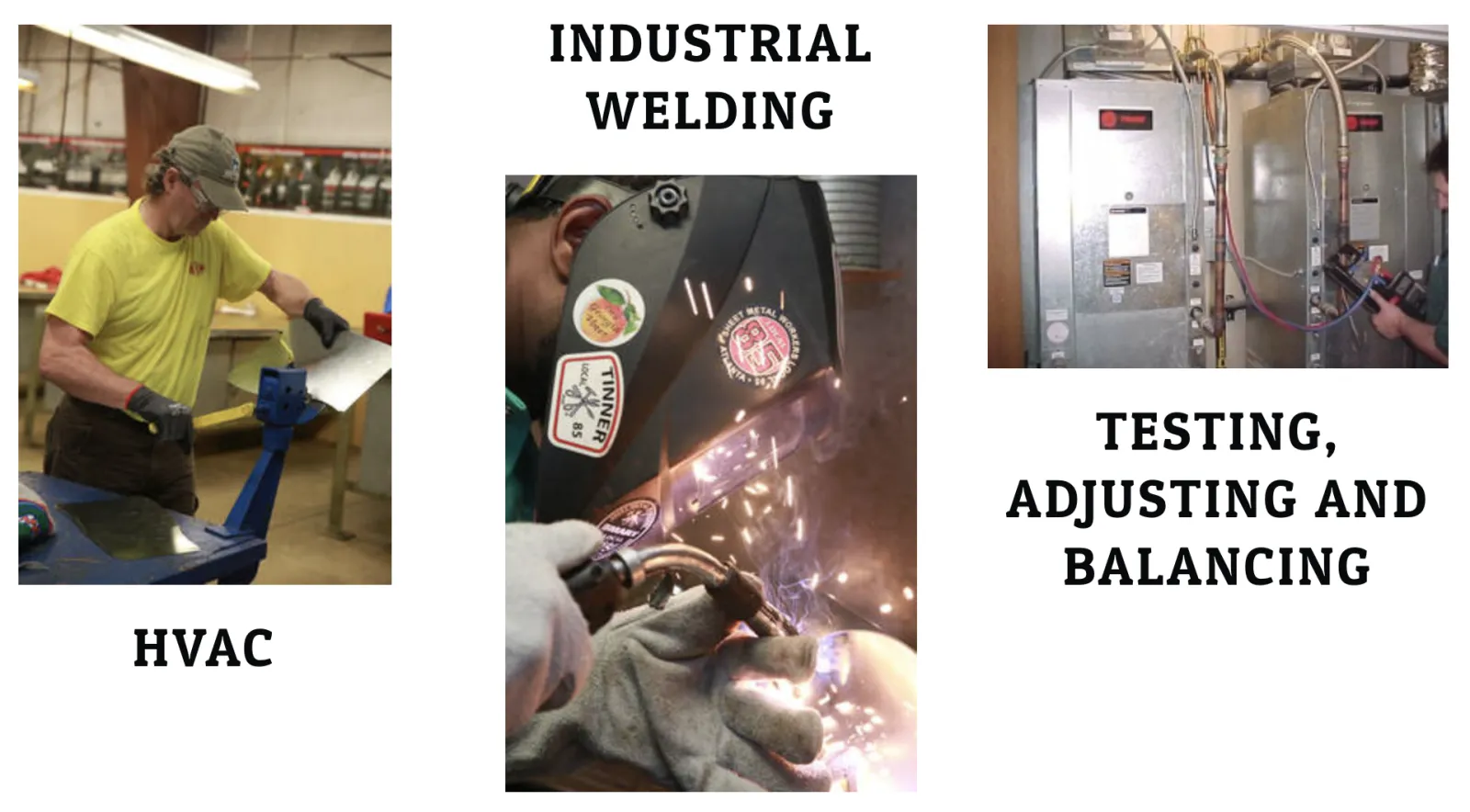 No Experience? No Worries!
Learn about Sheet Metal Workers